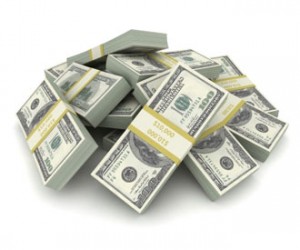 So you've no doubt been exposed to the idea of making money from home, and now your curiosity is peaked. I'm sure you've seen a lot of websites that tell you that you can make millions of dollars online, and all you have to do is grab your piece of the pie, right? In order to make money online, you need to know how to market online.
First, how do people make money online?
There are a lot of different ways people can make a living online, and what it really boils down to is internet marketing. No matter what you decide to do online whether it be selling a product or service, promoting a product, making websites…it all comes down to how you market online – hence the term internet marketing.
Let's say you decide you want to make a website about golf. If you want to make money from it, the first step would be to make the website, and then you would monetize it with either affiliate products or Google Adsense. The 3rd step would be to watch the money roll in! ….Uh…no. Sorry, but if it were that easy, every one would be doing it. This is where internet marketing comes in. You've created a great website, you have it monetized so that you can make money from it, but without any traffic to your website, you will make NO money from it. Period.
So you have to market your website. Internet Marketing.
Another example is let's say you decided you don't want to make a website, you just want to do make affiliate commissions through article writing. (This is a actually a great way to start off making money online for free – it really is free, and you don't have the hassle of making a website and keeping it updated. We'll cover more on article marketing in a later post.)
You still have to market your articles to get traffic to your article. Internet Marketing.
The point I'm trying to make is no matter what way you choose to make money online, every method and every idea falls on the foundation of internet marketing. You have to know how to market online in order to make any money on the internet.
Where Can You Market Online?
A ton of places! There are so many different ways to market online and get people to see or learn about your product (I say product because that's essentially what it is – even if it's not your product – your website is your product, your articles are your product…whatever you are promoting is your business and hence…your product.) The below ideas are just a few of the ways people promote and market their business online:
Article marketing – GoArticles, Ezine.com
Forum marketing
CPC advertising – Google Adwords or Microsoft Ads
Advertise on Craigslist
Advertise on Facebook
Email marketing
SEO marketing
Adf.ly
The sky is really the limit when it comes to ideas on how to get your website or product visible to people online. There is no right or wrong way to do it, and there is also never an idea that hasn't been tried before – meaning just because you don't see it listed here doesn't mean it won't work. Use your creativity and think about other ways to get your name or brand or website out.
Article Marketing
Sign up to as many different article directories as you can. Then, start writing! You can add an author bio at the end of each article. If you have a website, make sure you place a link back to it. Make sure your articles are well written though.
Forum Marketing
Sign up for forums that discuss things that interest you (or take it a step further and sign up for forums that are about your product or website). Start posting! You can have a signature with most forums, and in it, place your link back to your website. Don't spam though. Nobody likes a spammer. Keep your posts informative and on topic.
CPC Advertising
This method of advertising costs money, but you can spend only a few cents per click if you do it right. It can also bring in a lot of traffic if done correctly. Do not attempt this method of marketing unless you know what the basic principals are. You will lose your ass in money if you do this wrong. I promise you. I did.
Advertise on Craigslist
Yep. You can bring in a lot of traffic this way too. Just make sure you follow the posting guidelines and you don't abuse the privilege of the free advertising.
Advertise on Facebook
Sign up for a Facebook advertising account. Read the rules and again…make sure you know what you're doing before spending money on advertising.
Email Marketing
Start collecting email addresses from your website. You can market to your list. A great way to increase traffic to your website. But also…be respectful to your list. Nobody likes getting email spam. Build relationships with your list. Promote products that will benefit your list.
SEO Marketing
This is also known as search engine marketing. Getting the search engines to rank your website by targeting keywords. This is a free way to market, but it can take a while before you see any results. But it will bring in the most amount of traffic.
Adf.ly
An extremely cheap way to get instant traffic to your website. I have to warn you though…the traffic is not always quality. Conversions really suck. But if you just need a boost in traffic, or you have a great CPA offer, or you want to build your email list, Adf.ly is great for that. Also – do not put Adsense on any site that you use Adf.ly with. You severely risk being banned from the big G.
The ideas listed above or only the tip of the iceberg when it comes to how to market online.  Just poke around online for a while. Other ideas will spark and before you know it, you'll be a seasoned marketer.
This website was created to offer ideas and other tips for starting marketers. Bookmark it and check back often because I'll be updating and adding posts frequently. If you're looking for more information on the basics to making money online, read my mini course – designed specifically for beginners in mind. It's starts from the ground up.

Mini Course – How to Make Money Online For Complete Beginners and Without an Investment